Skip to main content
View by Category
Swipe through and view WOLF accessories.
The Road Less Traveled - WOLF
WOLF takes the road less traveled with superior patented technology and innovation. Only a WOLF counts rotations – all others simply use time to estimate the turns per day. With 185 years of innovation, WOLF knows that relying on time is simply never enough. Take your timepiece on the road less traveled and give it the precision it deserves.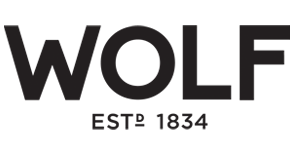 WOLF Watch Accessories
It all started with a jewellery case over 185 years ago. Now five generations later WOLF continues to handcraft the world's finest jewellery cases, travel accessories, watch winders, and safes. Since 1834 the WOLF mark has been a symbol of decades of innovation and the pursuit of the perfect design. As a five-generation family owned company we understand extraordinary objects are representations of extraordinary moments in life. We believe for a legacy to endure it must be nourished and upheld while melding beauty and functionality. Only WOLF has the patented technologies of Lusterloc™ to prevent tarnish and watch winders that count the precise number of rotations. WOLF is dedicated to honouring people's stories and the priceless jewellery and timepieces entrusted to us. Protect Your Legacy with WOLF.