Skip to main content
In Depth
One-of-a-kind Watches by Grand Seiko
The Watches of Switzerland Group | 3 minute read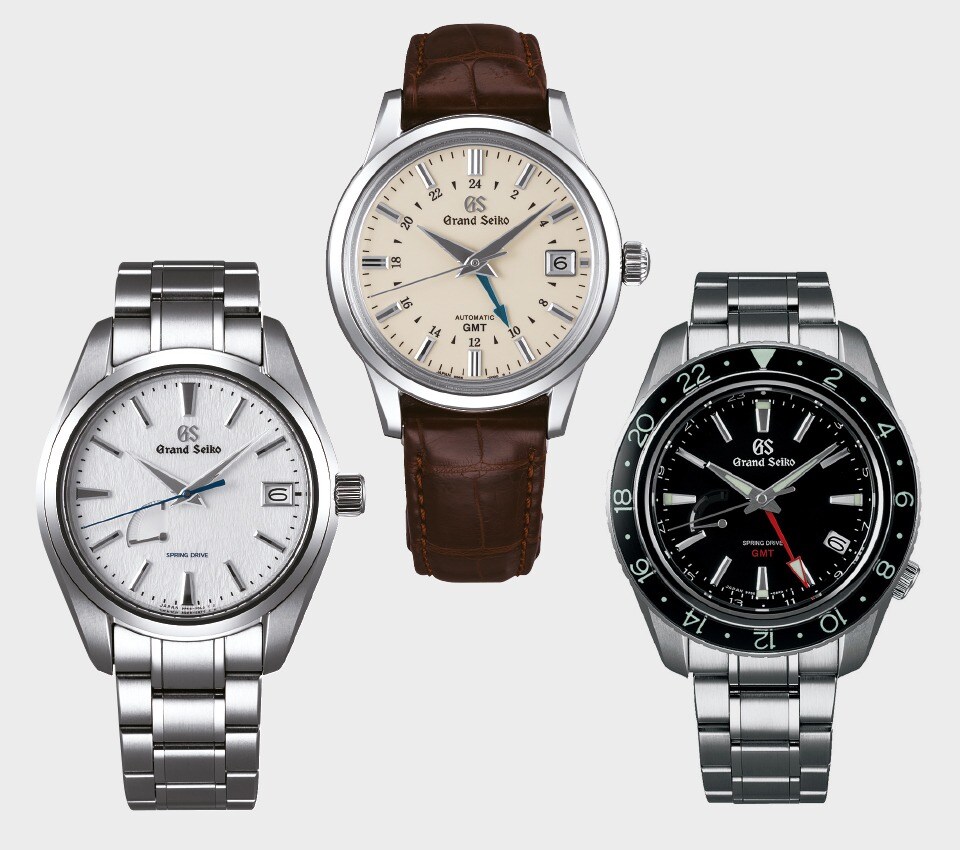 Our Watches of Switzerland showroom in Canary Wharf will be stocking a number of exquisite timepieces from Grand Seiko's Heritage, Sport and Elegance collections. The watches available will include a 41mm titanium Spring Drive model from the Heritage collection, a 44mm stainless-steel Spring Drive GMT model from the Sport collection, and a classic-looking 39.5mm stainless-steel GMT model from the Elegance collection.
A history of precision
Grand Seiko was founded in Nagano, central Japan back in 1960 with the aim of creating the 'ideal' watch – one that delivered precision, durability and beauty. The company's other aim was to change the perception of Japanese watches by matching the high quality of Swiss models, and before the end of the 1960s it was already winning prizes in the prestigious Geneva Observatory chronometer competitions. The brand's watches are all created by master craftsmen in Seiko's two exclusive watchmaking studios and, to this day, are instantly recognisable, thanks to the purity and functionality of their design.
The unique Spring Drive
Both the 41mm titanium Spring Drive model from the Heritage collection and the 44mm stainless-steel Spring Drive GMT from the Sport collection are driven by Grand Seiko's Spring Drive, a unique technology which generates energy like an automatic watch via a mainspring, and combines it with the precision of an electronic regulator. Drawing on Grand Seiko's skills in both electronic and mechanical watchmaking, the Spring Drive movement delivers an unprecedented level of accuracy.
A watch that offers you everything
Grand Seiko's 41mm Spring Drive-powered Heritage model is produced using high-intensity titanium with a scratch and corrosion-resistant finish. Watchmakers love titanium, not least for its lightweight qualities. The timepiece is part of Grand Seiko's contemporary yet refined Heritage collection, in which the brand focuses on creating designs with timeless appeal.
This model certainly isn't short on elegance, with its blue-steel seconds hand providing a counterpoint to the white dial, and the subtle inclusion of a handy power reserve indicator in the bottom left. It's robust and strong thanks to its hardy case, anti-reflective crystal coating, water-resistance to approximately 100m and resistance to magnetic fields. The bracelet also has a three- fold clasp, keeping it firmly on your wrist in any situation. The model is powered by the Spring Drive calibre 9R65, which is found in many Grand Seiko models. The movement boasts a 72-hour power reserve, and can be observed at work through the transparent case back, which is also adorned with Grand Seiko's lion.
Above and beyond
If you are after a truly athletic piece, the 44mm stainless-steel Sports GMT model features the same appealing sporting qualities as the Heritage model, as well as hands finished in LumiBrite – Seiko's bright, long-lasting luminous paint – and water resistance to approximately 200m. Its black dial is surrounded by a matching black rotating bezel with a 24-hour display, and power comes courtesy of the automatic Spring Drive GMT calibre 9R66. It also has a dual-time function, signalled by its striking red hand, and a 72-hour power reserve.
Embodying elegance
For lovers of classic watches, the 39.5mm stainless- steel GMT watch from Grand Seiko's Elegance collection is the perfect choice. A steel timepiece presented on a brown crocodile leather strap, with a blue-steel 24-hour hand ticking over a deep ivory dial. Thanks to the anti-reflective transparent case back, you can view the intricacies of the automatic GMT calibre 9S66, which offers a 72-hour power reserve. The movement's ingenious design means that when the crown is pulled out by one notch, the hour hand can be adjusted without stopping the second hand, so its highly accurate timekeeping is maintained.
Back To Top