Skip to main content
In Depth
Setting the pace: 50 years of Tudor chronographs
By Sarah Jayne Potter | 4 minute read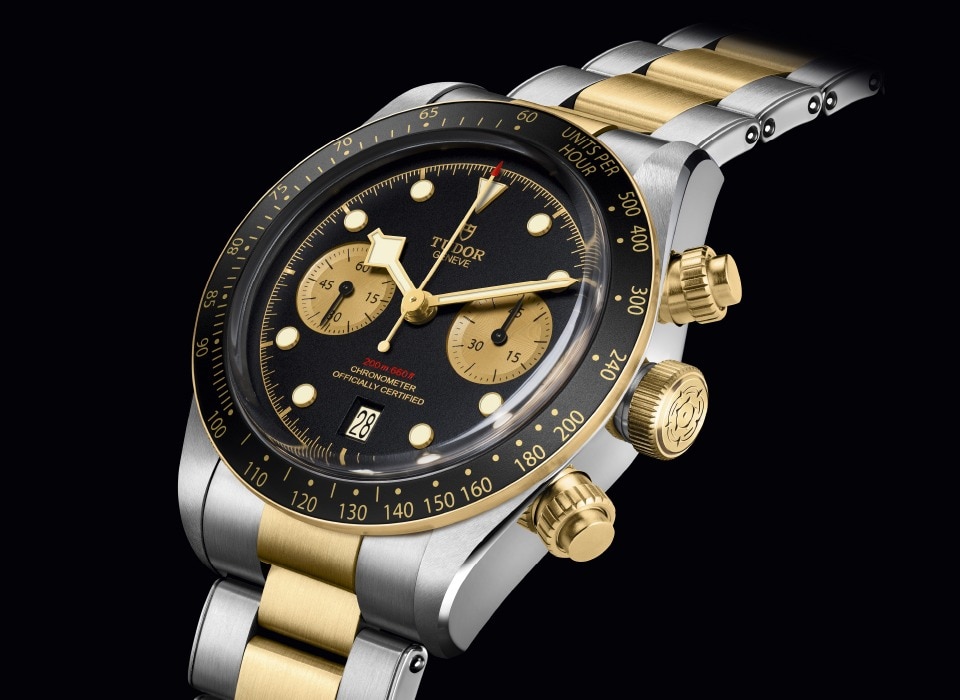 Established by Rolex founder Hans Wilsdorf in 1926, Tudor has always done things differently. This year marks five decades since it began crafting its desirable chronograph sport watches. Here we present two of our favourites: the Tudor Black Bay Chrono and Chrono S&G.
- Tudor made its name focusing on professional tool watches.
- It's been making chronograph sport models since 1970.
- Tudor chronographs are a hybrid of dive and racing watches.
- Its motto is 'Born to dare' – a call to challenge the status quo.
Queen of the racetrack: Tudor Black Bay Chrono
The Tudor Black Bay Chrono is a chronograph firmly inspired by the world of motorsport, with a tachymeter engraved into its stainless-steel bezel, a two-dial chronograph and a date complication at six o'clock. Fitted with three immediately identifiable pushers that were created for the first generation of Tudor chronographs, it's powered by the COSC-certified MT5813 automatic movement, which has an impressive power reserve of approximately 70 hours. A column wheel and vertical clutch mechanism adds robust reliability to this professional tool watch.
Both its 41mm steel case, which has a polished and satin-brushed finish, and its screw-down steel winding crown were influenced by the brand's earlier military diving watches, and the waterproofing system is reliable to 200m. The Black Bay Chrono is a hybrid that dares to combine the aquatic heritage represented by the Black Bay family with the complications of a chronograph. In our view, it would be a distinctive and esteemed addition to any collection.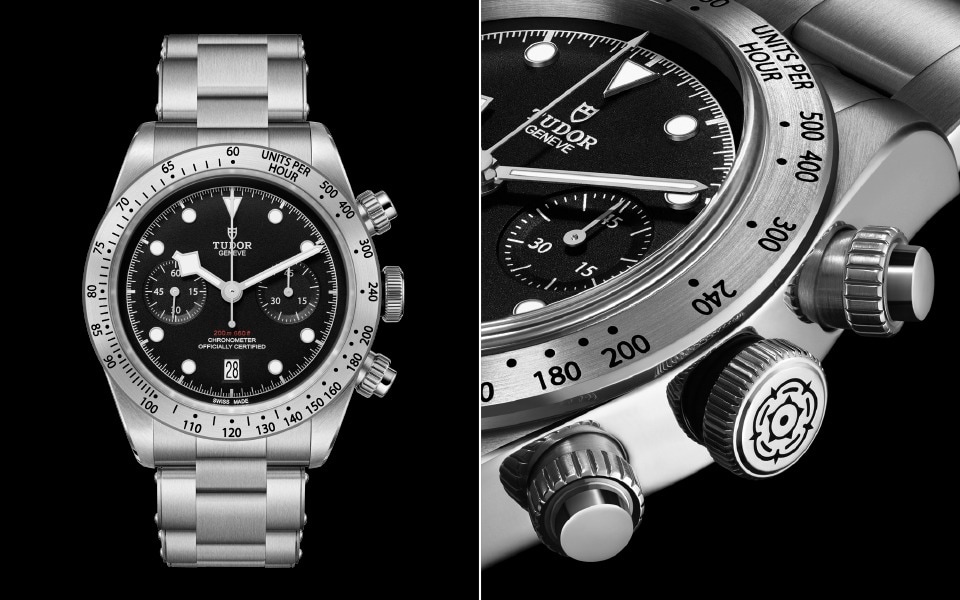 The Tudor Black Bay Chrono with its screw-down steel winding crown is influenced by the brand's early military diving watches
The golden age: Tudor Black Bay Chrono S&G
The Tudor Black Bay Chrono S&G – or Steel and Gold, to you and me – is a variation on the steel Black Bay Chrono. Remaining faithful to the heritage Black Bay aesthetic, this model makes the famous 'snowflake' hands its own in a gold version refined for optimum readability against the domed matt-black dial. Following the Tudor chronograph tradition, a date aperture is positioned at six o'clock and the 41mm steel case is equipped with distinctive and eye-catching yellow-gold pushers.
A fixed bezel in yellow gold with a black anodised aluminium insert and disc with tachymetric scale completes the face of this elegant, sporty chronograph. Like the steel Chrono, the S&G is just as comfortable in the sea as it is on the land, thanks to its stellar waterproofing system.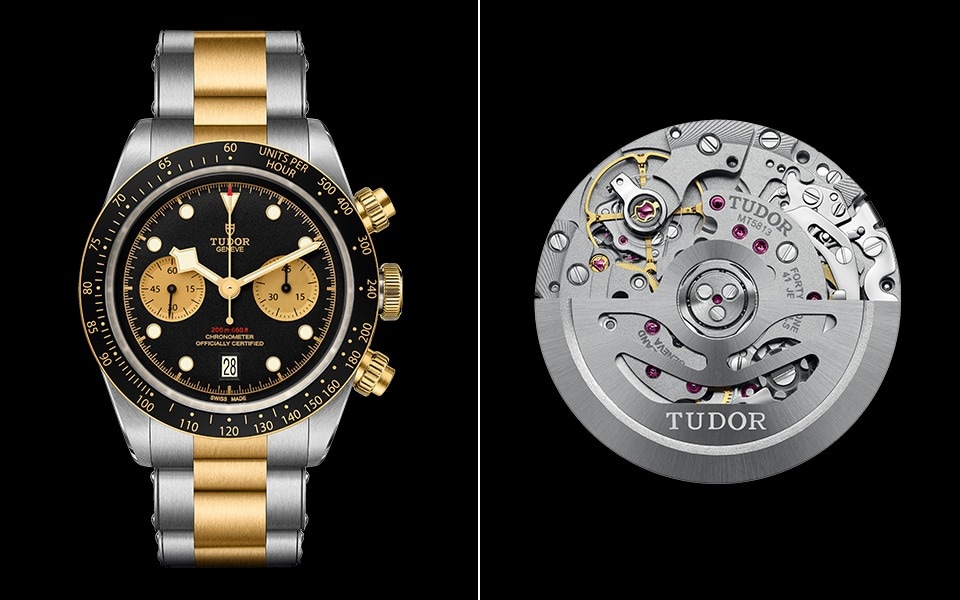 The Tudor Black Bay Chrono S&G with distinctive yellow-gold pushers is sporty yet elegant, and powered by by the self-winding manufacture calibre MT5813
Time stands still: the Tudor chronograph
Since the introduction in 1970 of the Tudor Oysterdate Chronograph, Tudor has produced timepieces that are closely tied to the world of motorsport. It has simultaneously been developing its professional dive models from the early 1950s onwards, when they were the choice of US Navy Seals and French Navy divers. These new hybrid Black Bay Chrono and S&G chronographs jointly celebrate the brand's sporting and professional tool-watch heritage, building on the classic design details that made its early tool watches so sought-after.
Tudor chronographs have a distinctive fit and look on the wrist, their pushers delivering a masculine retro aesthetic that is at the same time effortlessly contemporary
The practical stopwatch function of a chronograph is understandably important to divers and racers alike – their lives, missions and lap times depend on accurate timekeeping. So, it's clear to see why so many of them trust Tudor's proven craftsmanship. Put simply, as we explain in a Calibre podcast, a chronograph is a watch with a stopwatch function built into the movement. The mechanism is used to accurately measure elapsed time. Also important is high legibility, so that readings can be seen and remembered with a glance at the watch face while performing other important, and often dangerous, tasks.
Perhaps even more relevant today, the Tudor chronographs have a distinctive fit and look on the wrist, their pushers delivering a masculine retro aesthetic that is at the same time effortlessly contemporary. It's a desirable look that can be traced back throughout Tudor's 50-year history of producing chronographs, and one we're sure will be a brand identifier for the next 50 years too.
Born to dare: Tudor's DNA
Devoted to the classic, but rejecting the status quo, Tudor has retained the best of the past, learning from and being inspired by traditional watchmaking and iconic design, while pushing the boundaries of what's new and contemporary. It draws on its archive, but incorporates state-of-the-art technology, exclusive innovations and pioneering creativity to be relevant in a modern, ever-evolving world.
Tudor has a long heritage. Its name was first registered as a trademark in 1926 by Swiss watchmaking company Veuve de Philippe Hüther on behalf of Hans Wilsdorf, the founder of Rolex. After first focusing his early efforts on Rolex, Wilsdorf returned to take over Tudor in 1936, before founding the company Montres Tudor SA 10 years later.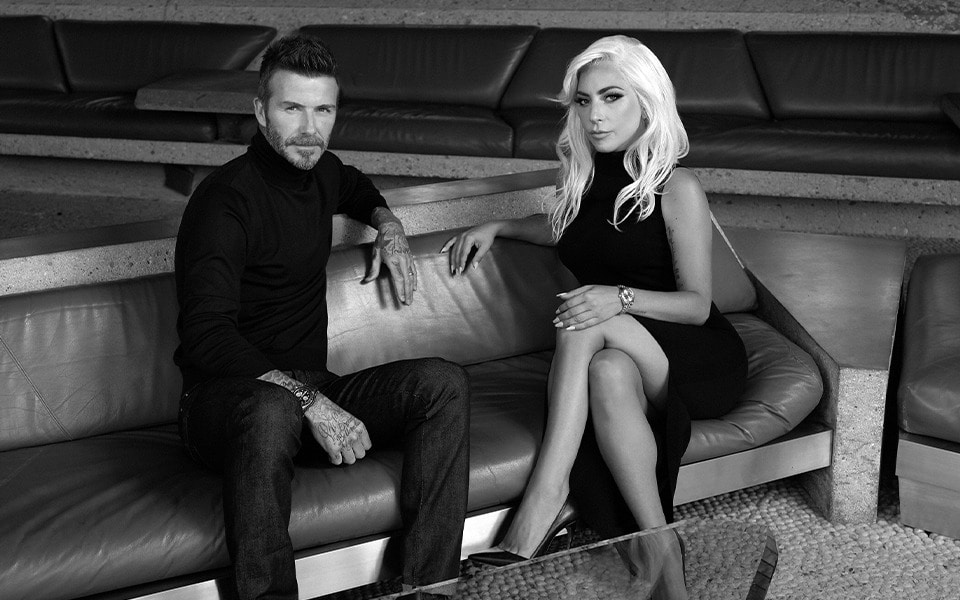 Tudor's brand ambassadors include David Beckham and Lady Gaga
Since then, Tudor has grown in confidence and influence, from equipping Navy divers with sturdy tool watches in the 1950s and launching its first chronographs in the 1970s to becoming a household name with the likes of David Beckham and Lady Gaga and the All Blacks among its influential brand ambassadors in recent times.
In our opinion, the Tudor watch brand is the ideal choice for anyone who has a respect for the past and for high-quality watchmaking, but also a desire to stand out from the crowd with a timepiece that benefits from subtle contemporary embellishments.
Back To Top