Skip to main content
In Depth
The Complete Calibre Guide To Breitling
The Watches of Switzerland Group | 7 minute read

Navitimer Automatic 35 Collection
For the explorers, the adventurers, and those with a purpose, Breitling is the timepiece of choice. Since 1884, the Swiss luxury watchmaker has harnessed its founder's pioneering spirit to create watches that weave together robust functionality and reliability with style. The result is illustrated by the brand's many iconic timepieces. All of them ubiquitous with adventure across air, land, and sea.
Breitling played a significant role in the development of the wristwatch, and that technical innovation remains a driving force behind the brand to this day. Its list of accolades and 'firsts' is long. Having invented two independent pushpieces and created the first self-winding chronograph, Breitling is also regarded as a chronograph specialist and has retained a pivotal role in its technical development.
But even more than that – beyond the sturdy functionality that allows a Breitling watch to remain ticking under some of the most trying conditions imaginable – the timepieces still manage to look sublime. A delicately balanced blend of aesthetics and emotion is behind the brand's design ethos.
The quest for evolution and refinement is a daily challenge, taken on by some of the world's finest watchmakers in one of the best-equipped watchmaking laboratories, the Breitling Chronométrie in La Chaux-de-Fonds.
The prestigious Bentley Motors, fearless Ocean Conservancy, and revolutionary Solar Impulse Foundation are just a handful of the influential and impressive partnerships that Breitling holds. However, it is the storied and pioneering spirit of aviation to which the brand is most closely associated.
For those undertaking airborne adventures, precision and reliability are vital. And Breitling has mastered both. Their Aviation Pioneers Squad is made up of exceptional explorers who have conquered the skies, including fighter jet pilots, drone champions, and astronauts.
In fact, the brand has partnered with many exceptional people, all of whom hold an appetite for adventure. These include Kelly Slater, the most successful surfer of all time. Bertrand Piccard, the first person to fly non-stop around the world in a balloon. And Jan Frodeno, an Olympic Gold triathlete and three-time Ironman World Champion.
Each one determined Breitling as their timepiece of choice to see them through some of their toughest challenges of endurance. And with cases that are designed to withstand extreme conditions, and bracelets that provide sturdiness and comfort against traction and torsion, it's little wonder why.
In this guide to Breitling, we explore the story behind the brand, its iconic collections, and our team's favoured timepieces.
The Story Of Breitling
It starts in 1884, amongst the lush hills and valleys of St. Imier, Switzerland.
At the age of 24 years old, following a watchmaking internship, Léon Breitling established the company G Léon Breitling. And it was here at this workshop that he wielded his skilled craftsmanship to produce timepieces, chronographs, and intelligent measuring tools. It didn't take long before Léon's innovations earned him a reputation as the go-to watchmaker.
At the time many sectors, from the military to science to athletics, were interested in chronographs. And it was Léon's focus and attention on perfecting chronographs that sealed his fate as an icon of the industry. By 1889, he had been granted a patent for a simplified chronograph that was heralded for its straightforward manufacturing and maintenance.
Upon Léon's passing in 1914, his son Gaston took over the family business. Having learnt from the best, it came as little surprise that Gaston would go on to create pieces as innovative and pioneering as his father had before him. Under his helm, Breitling launched the world's first wrist chronograph with a separate push-piece above the crown, establishing the brand's prestige and influence.
Following World War II, many former military aircrafts were now being used to transport people, resulting in a surge of commercial aviation. The impact this had on the luxury watch industry was significant, as pilot watches suddenly became a coveted accessory, and not just by those flying the plane. Many brands began adhering to the new market, but it was Breitling that was the illustrious choice for all.
One of the most significant watch launches – and periods within Breitling's history – came in 1952, while Willy Breitling, grandson of Léon, was in control. The prototype for the iconic Breitling Navitimer – a portmanteau of 'navigation' and 'timer' – was released to the world. This timepiece was, and remains, the watch of choice for pilots, airlines, and aircraft manufacturers across the globe.
However, the late 1970s marked fundamental changes within the company as the Breitling family relinquished control. Willy was falling into ill health and his sons were too young to take the reins. Shortly before Willy's death in 1979, he sold the brand names and watch models, including his beloved Navitime. The new owner was Ernest Schneider, a visionary entrepreneur who, as a pilot and watchmaker himself, had the most appropriate background of anyone to take on the legendary company.
To this day, Breitling retains its status within the luxury watch world as one of the greats. As well as the lust-worthy, refined designs, its timepieces need to withstand use under the most challenging conditions. And so, a relentless obsession with quality has been established. For those who seek the uncharted path and dare to push boundaries, they'll find a kindred spirit in Breitling.
Collections Of Breitling
Avenger
When power and Swiss precision collide, the Avenger collection, first debuted in 2001 and relaunched in 2019, is the result. Designed for the ultimate in functionality, and for any adventure, these timepieces can withstand water depths of up to 300m and come in Chronograph, three-hand or 24-hour GMT variations. As well as being chronometer-certified by the COSC, they are shock resistant and come complete with precise readability. An instantly recognisable feature of the collection is the distinctive rider tabs on a unidirectional ratcheted bezel.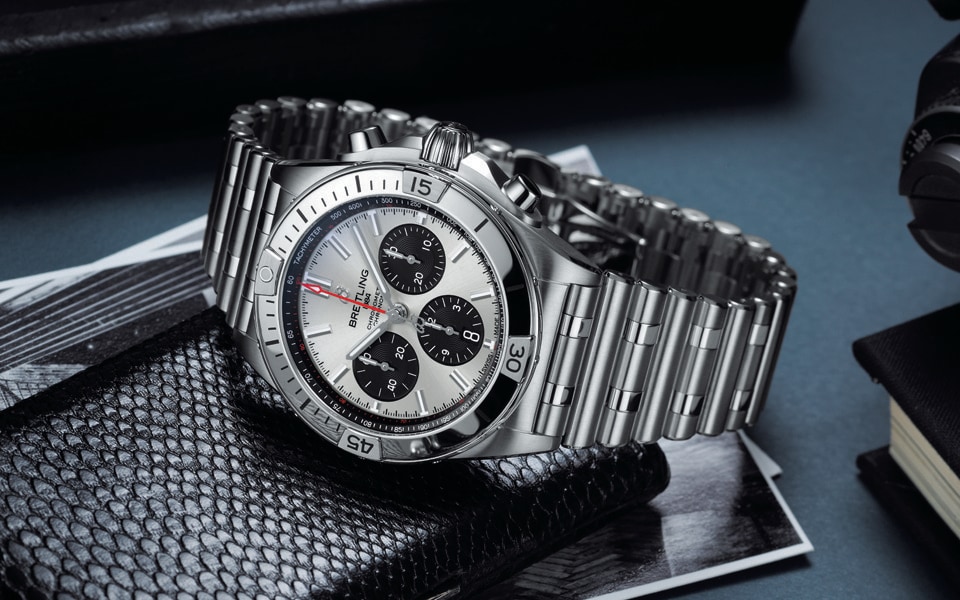 Chronomat
The Breitling Chronomat, available in steel or bicolour and with a wide variety of dial colours, was first introduced in 1984 and relaunched with a new ladies design in 2020. Originally designed and inspired by Breitling's 1983 Frecce Tricolori, a watch developed and inspired by the Italian squadron of the same name, the Chronomat launched a year later to celebrate the brand's 100th anniversary. The collection remains distinctive for the brand, owing to its ever-evolving design – a fusion of purpose, action, and style. Features include rider tabs at 3 and 9 o'clock, and recognisable integrated Rouleax bracelet.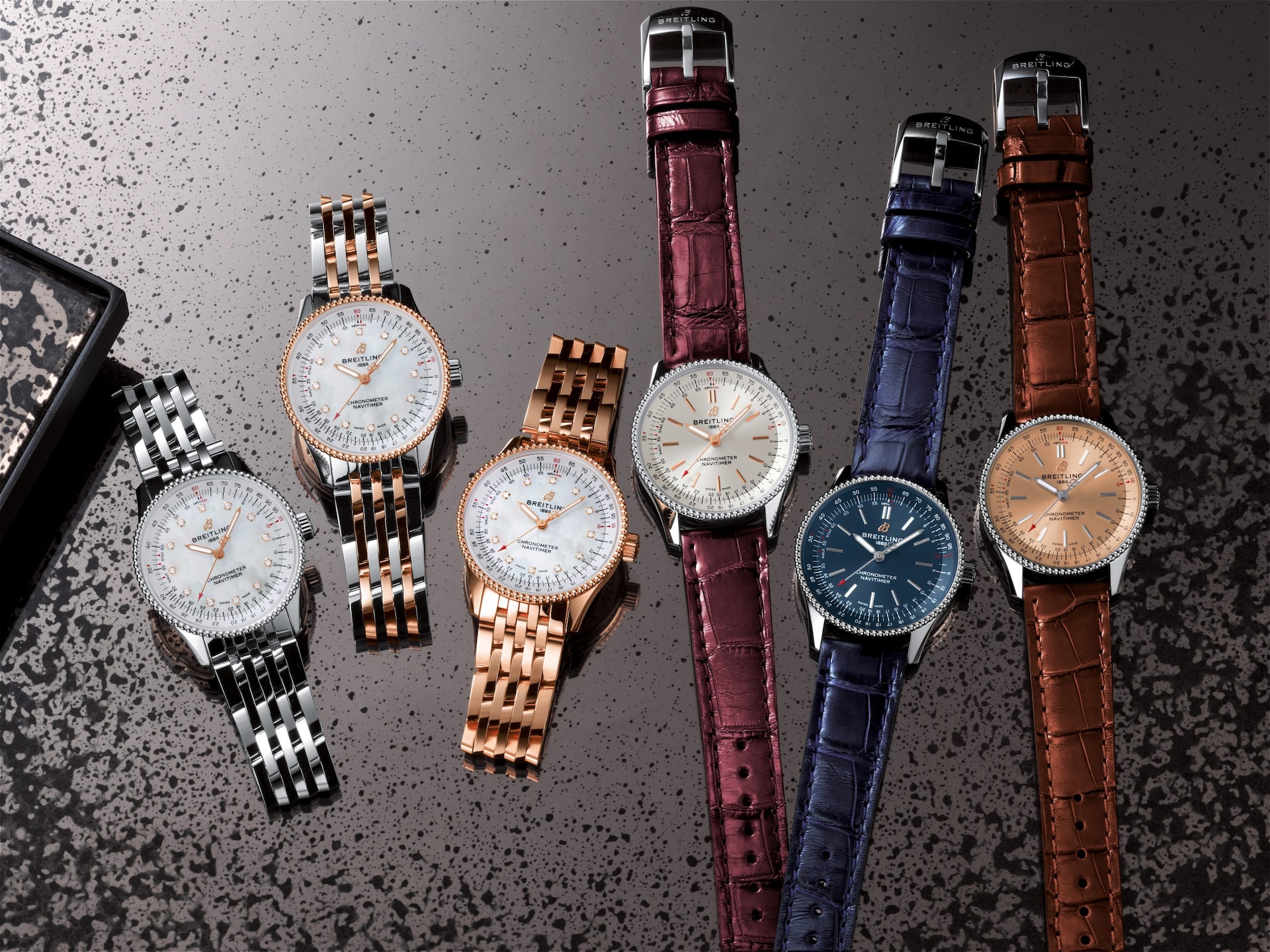 Navitimer
The Navitimer is a true icon of not only Breitling, but the entire luxury watch industry. Considered one of the great 20th century classics in watchmaking, the Navitimer was first designed in 1952 as an essential tool for pilots to measure flight times and fuel requirements and features an aviation slide rule. While the popularity of the Navitimer has extended to those who may not soar through the sky on a regular basis, reliability and performance remain at the heart of the collection. Breitling extended the range, and released the Navitimer 35 for women in 2020.
Premier
he original Premier collection, launched in the 1940s, was dedicated to everyday elegance. It was relaunched in 2018 and over time, this has since evolved to bolster the quality and performance of each timepiece but the design DNA remains the same. Refined, and simply Breitling.
Professional
"Instruments for Professionals" was one of Breitling's earliest and most enduring mottos, and through the Professional collection it remains true to this day. Built to military specifications, the Professional features optimal readability and ergonomics, teamed with an impressive catalogue of features. Wrapped up in a robust, rugged style it is the chosen partner for many adventurers.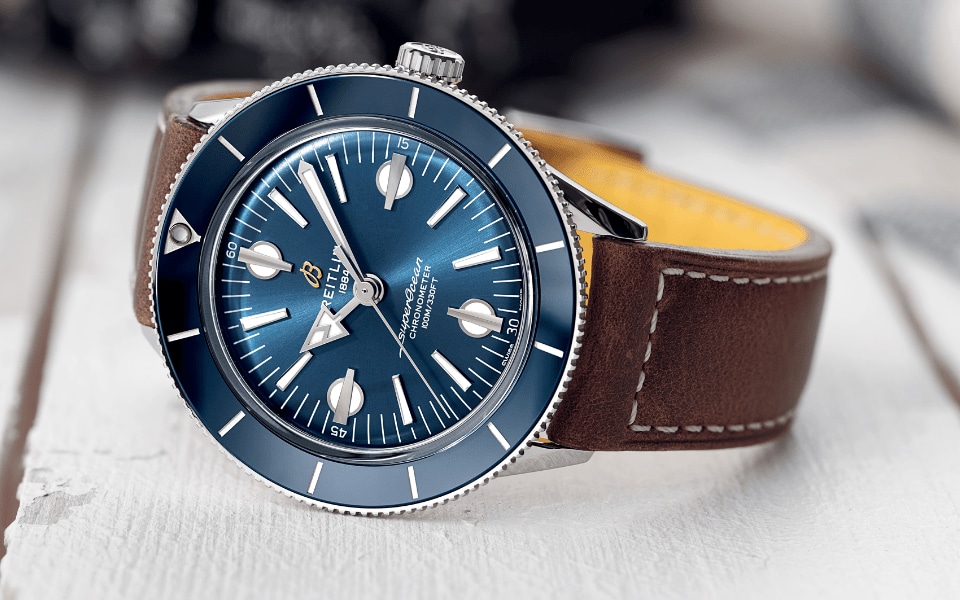 Superocean
Thought of as the classic dive watch, the Superocean was first created in 1957 for professional and military divers. However, the clean, sport design and flawless performance earned it a following amongst leisure divers and watch enthusiasts and Breitling relaunched the collection in 2019. The Breitling Caliber 17 offers a power reserve of around 38 hours and remains a firm favourite with collectors to this day. In 2020, the brand released the Superocean Heritage '57 capsule collection, a reimaginging of the original Superocean that also nods to surf culture of the Fifties and Sixties.
"An elegantly versatile design, handsome proportions and combined with an in-house movement, it was no question that our exclusive collaboration would be a Premier model. Our first exclusive collaboration with Breitling to celebrate our ever-growing partnership resulted in this top selling design. A watch worthy of the historic name and dedicated to everyday elegance, this Premier WOSG Exclusive is a must have in our eyes" Lisa Broun, Senior Luxury Watch Buyer
"One of the most successful launches of 2020, the Breitling Endurance Pro has landed itself quickly and comfortably in our best-selling timepieces. A new entry price point for Breitling and impressively lightweight, this is a fantastic way to start your watch collection and ideal for anyone wanting to combine sporting lifestyle with a laid-back attitude." Lisa Broun, Senior Luxury Watch Buyer
"A new Spotlight Squad launched the new ladies Chronomat collection with leading stars that are known for being fierce and pushing boundaries. With a combined dedication to change diversity and reshape the world we live in, the new ladies Chronomat embodies the same flair whilst committed to the innovation Breitling is known for. Sporty but elegant, Breitling's first-ever Chronomat designed for women is a welcomed edition to any collection and the dial designs are certainly showstopper" Faye Soteri, Senior International Buyer
"It is no surprise the Breitling's Superocean Heritage line celebrates a more than 60-year legacy. Blending timeless aesthetics and cutting technology, this vintage-inspired design is one of our best-selling timepieces. Versatile for any occasion, the Superocean Heritage combines timeless style and functionality to give us the perfect striking timepiece" Lisa Broun, Senior Luxury Watch Buyer
To ensure your Breitling watch stays in exquisite condition, take a look at the tips for taking care of your luxury timepiece, or enquire about a service with our specialist technicians.
Back To Top