Skip to main content
In Depth
The Hypnotic Tourbillon
By Amanda Evans | 6 minute read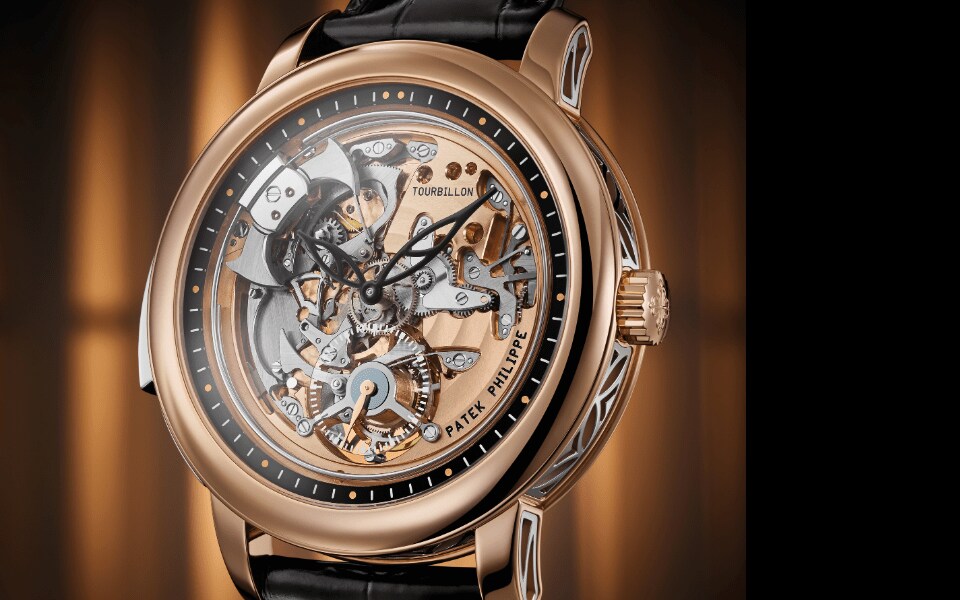 The tourbillon is perhaps one of the most incredible inventions of horology with a history that spans over 200 years.
The mechanics of this marvelous mechanism can be as complicated to explain as they are to understand so to appreciate this fine watchmaking feature, let's start from the beginning.
History of the Tourbillon
The tourbillon was first developed back in 1795 by highly skilled watchmaker, Abraham-Louis Breguet. Along with other watchmakers of his time, Breguet had recognized that gravity tended to have an adverse effect on the performance of a watch. Watches were inclined to run either a little fast or slow dependent upon their position and hence their accuracy was compromised. When gravity is a fundamental part of our everyday activity, pioneering a component that was able to defy gravity was the only way that Breguet could see would solve this problem.
The escapement of a watch consists of the balance and spring, lever, and escape-wheel – all components which are most highly sensitive to gravity. Breguet's idea was to house these sensitive components within a rotating mechanical cage to offset the negative effects of gravity. Thereafter, in 1801 Breguet earned the rights for a ten-year patent for the invention known as the tourbillon. This extremely complex and brilliant invention was equally complex to create and after two experimental models, was first presented to the public in 1806 at the National Exhibition of Industrial Products in Paris. Captivated by the appeal of a watch that was able to maintain accuracy whatever its position, it enthralled the devotees of horological expertise and who sought to acquire one of Breguet's tourbillons between 1808 and 1814. Only 35 tourbillons were sold before the death of Breguet in 1823 but his legend lives on and his successors to this day continue to harness his incredible expertise whilst evolving with new technology.
How Does a Tourbillon Work?
The tourbillon cage, or mechanical carriage, works by housing the delicate escapement and performs a complete rotation every minute. The tourbillon sits in between the escape wheel and gear train and as the tourbillon rotates the escape wheel revolves around it. It is the constant repetition of this that cancels out the adverse effects of gravity.
The hypnotic spiral rotation of this mechanical name earned the tourbillon its name. French for "whirlwind" it makes perfect sense and is mesmerizing to watch whilst in action. Throughout most of the history of the tourbillon they were exceptionally rare. Crafted individually and by hand, they were reserved for the elite. However, over time and with the addition of evolving technology they are now much easier to make. Respected by skilled artisans within the watchmaking industry and admired by collectors and watch enthusiasts, the tourbillon watch will always remain a mechanical feat of horology.
What Did Our Head of Watch Buying Have to Say?
We invited our resident expert, Mark Toulson, Head of Watch Buying, to share his thoughts and knowledge of tourbillons and what makes them so special.
How would you describe a tourbillon in its simplest form?
I'd describe it as something incredibly complicated, very clever and if you have a fascination for tiny moving parts then it's utterly compelling. Very obviously the purpose of a watch is to tell the time so doing it accurately and consistently is fundamental. Throughout history watchmakers were challenged to perfect their craft and create ever more accurate timepieces and one major obstacle to this was the effect of earth's gravity on the movement. This was particularly relevant to pocket watches because as the name implies, they were kept in your pocket and as such remained in one position for long periods of time. One of the most sensitive parts of a watch is the escapement which regulates the timekeeping. Abraham-Louis Breguet reasoned that if the escapement could be rotated it would minimize the effects of gravity and produce a more accurate timepiece. In 1795 he invented the tourbillon movement and in 1801 patented it. Fortunately, most tourbillons are visible so you can see the escapements continual rotation over 60 seconds as it resists gravity. It's quite a sight to behold.
What makes a tourbillon watch so different to one which has Master Chronometer Certification?
A tourbillon is a type of movement, whereas Master Chronometer Certification is a regime of testing to ensure that a watch meets certain specified criteria such as accuracy and reliability. OMEGA use this stringent certification for almost all of their watches and submits them to METAS, an independent testing authority in Switzerland, along with the more familiar COSC \(Official Swiss Chronometer Control\) agency.
As much as price point really shouldn't be a focus, the burning question that we all want to know the answer to is just why are tourbillons so costly?
As with anything that takes time and skill to perfect there is a commensurate cost. On average a tourbillon consists of around 40 parts with a total weight of under one gram. As you can imagine the skills required to manufacture these parts and assemble them take years to learn which is why they are the preserve of a small number of master watchmakers. They are one of the most complicated of complications in the field of watchmaking and represent the skill and artistry of a brand and this in turn is reflected in the price. They can of course be many tens of thousands of pounds, and even more from manufacturers such as Greubel-Forsey who produce quadruple tourbillons for well over half a million pounds. That said, for around $20,000 TAG Heuer produce a Carrera Chronograph Tourbillon which is an amazing watch for not a great deal of money in the context of tourbillon watches as a whole.
What is your favorite tourbillon watch and why?
It's a tricky one. I'd probably have to choose a Breguet in part because it was their invention – and it's the 220th anniversary of that amazing creation this year. The 5367 extra flat model in rose gold is beautiful. The tourbillon is eccentrically placed and visible through an aperture at 4.30 on the exquisite grand feu enamel dial. It also has the classic "Breguet numerals" which complete a wonderful looking watch. If I'm allowed another choice, it would be Patek's 5101P which is no longer produced. The platinum case has a salmon-pink dial and Patek simply write the word "Tourbillon" on it, whilst the mechanism is only visible through the exhibition case back. A wonderful watch with a rectangular case that has Art Deco inspired stepped sides. An absolute classic!
Discover your perfect watch here at Watches of Switzerland.
Back To Top