Skip to main content
Curated by Watches of Switzerland and developed in collaboration with the team at Stadium Goods, one of the world's leading authorities on collectible sneakers, "Sneaker Time" attracts two groups of equally passionate and knowledgeable enthusiasts. The exhibition serves as an observation on how timepiece collecting fits into "hype" culture and how the sneaker marketplace mirrors that of the watch industry.
Installed on the redesigned Lower Level of the Watches of Switzerland Soho flagship, "Sneaker Time" opens to the public today and will be on display through December 2nd.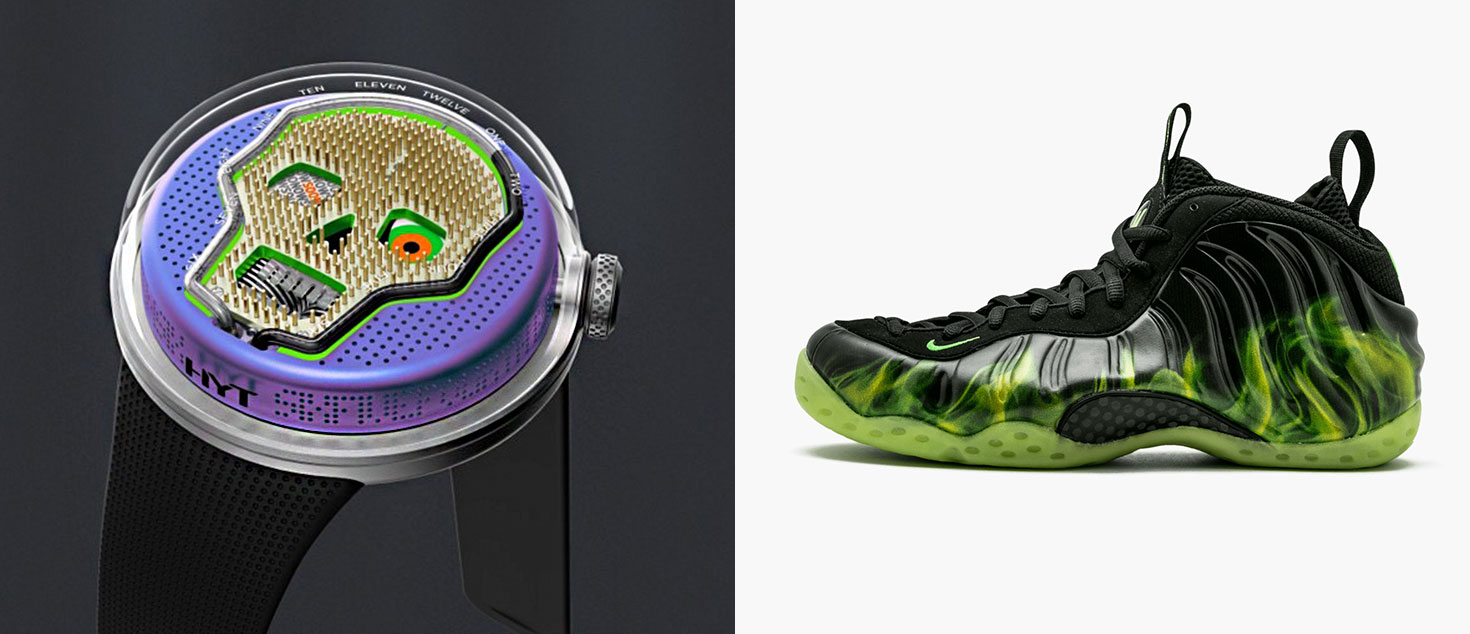 HYT SOONOW paired with Nike Air FoamPosite One "ParaNorman"
When the Nike Air FoamPosite One "ParaNorman" was released in 2012, the limited run of 800 pieces was offered exclusively through a social giveaway in honor of the Laika-produced movie of the same name. The shoe is so rare that many enthusiasts don't even know it exists. Similarly, the new HYT SOONOW — an exclusive Sneaker Time drop — is limited to 5 pieces and offers a distinctive, high-visibility design language. The timepiece and sneaker also share a "spooky" theme: on the watch, HYT's signature skull motif is reimagined with fluid-filled capillaries that portray time using blue and green liquids that complement the green flames on the "ParaNorman."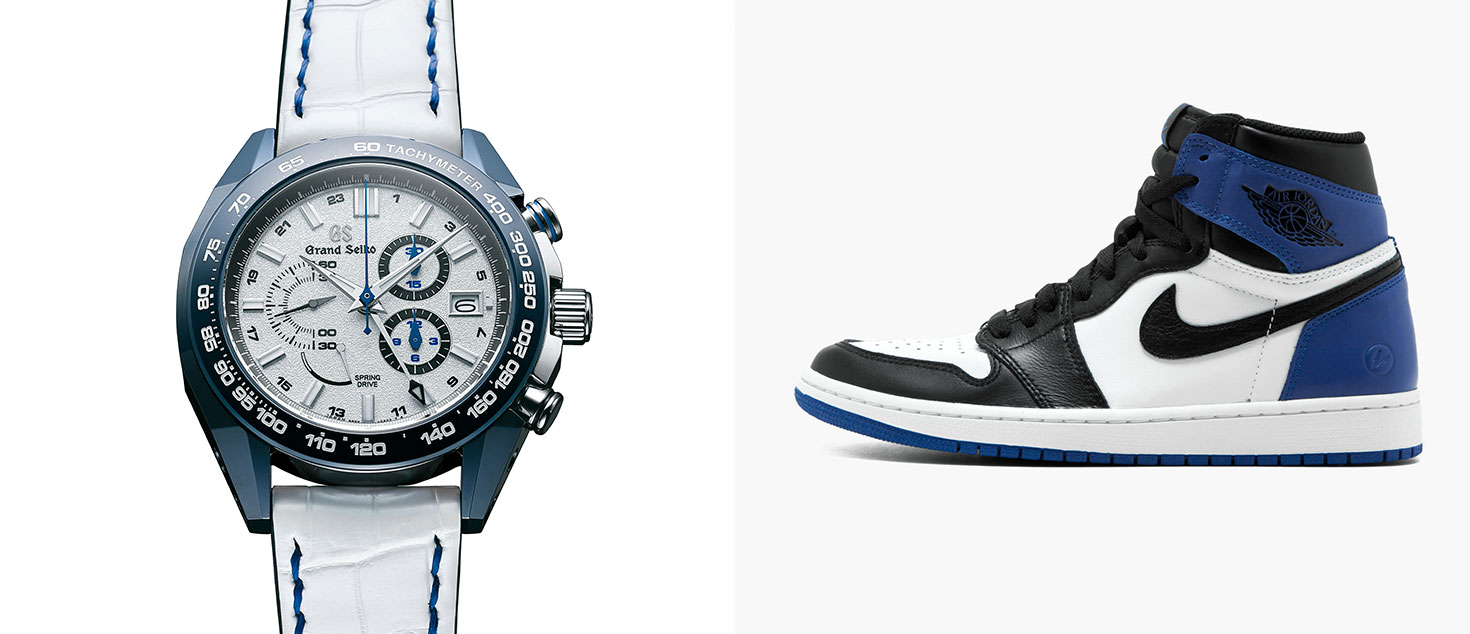 Grand Seiko Spring Drive 20th & Nissan GT-R 50th Anniversary Limited Edition paired with Fragment Design x Nike Air Jordan 1
Known as the "godfather of streetwear," iconic Japanese designer and founder of Fragment Design, Hiroshi Fujiwara, collaborated with Nike in 2015. The result was one of the most sought-after versions of the Air Jordan 1 model to date. For this pairing, Fujiwara meets legendary watchmaker Grand Seiko. The brand's collaboration with carmaker Nissan — another Japanese bastion — celebrates 50 years of the Nissan GT-R and 20 years of the Seiko Spring Drive caliber and marks their first collaborative timepiece available in the U.S. Similar to the Air Jordan 1, the watch's "Bayside Blue" colorway has been the source of much fanfare for enthusiasts and novices alike.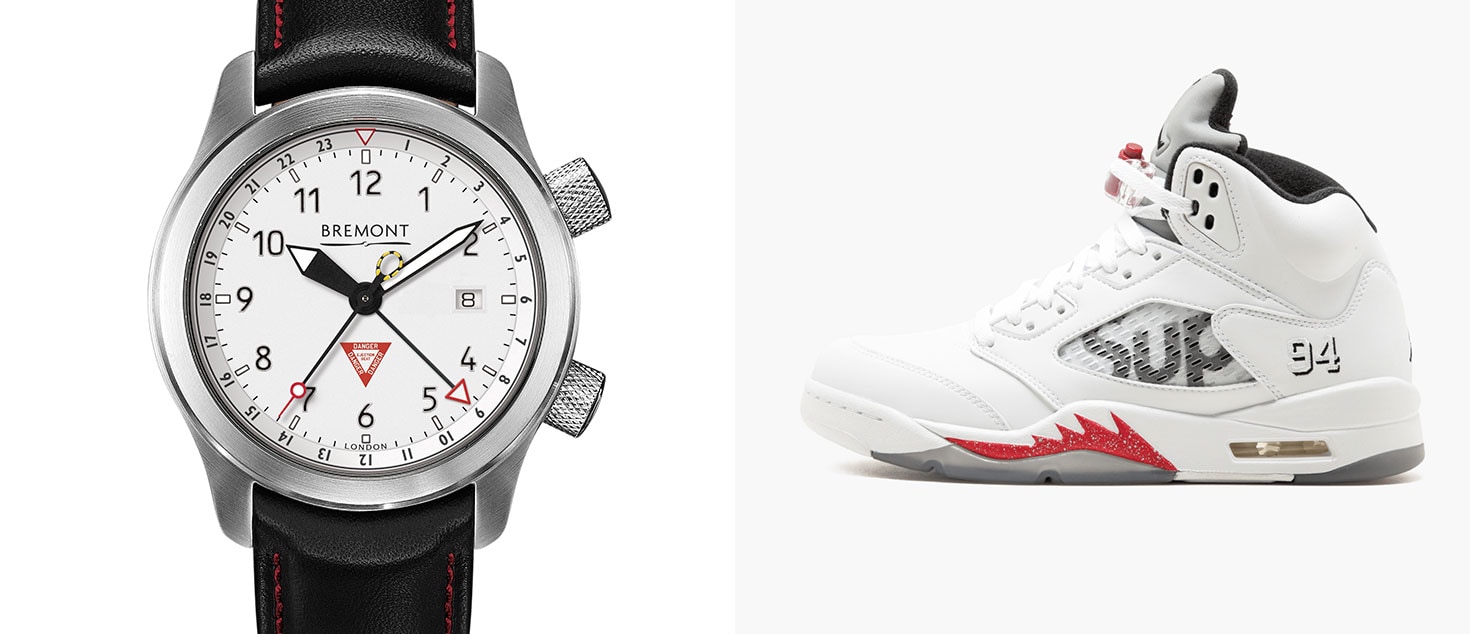 Bremont Martin Baker MBIII 10th Anniversary paired with Supreme x Air Jordan 5
The Air Jordan 5, designed by legendary sneaker Nike designer Tinker Hatfield, was inspired by WWII fighter jets made to look like sharks, coming through in a sawtooth sole. In 2015, New York-based Supreme offered its take on the silhouette to create the most hyped sneaker release of the year, underscored by aviation influence. Similarly, British watchmaker Bremont celebrates its decade-long partnership with Martin-Baker, which supplies 70% of the world's Air Forces fighter ejection seats, with the Martin Baker MBIII 10th Anniversary. The limited-edition timepiece shares not just influence, but an aeronautical colorstory with the Supreme x Air Jordan 5.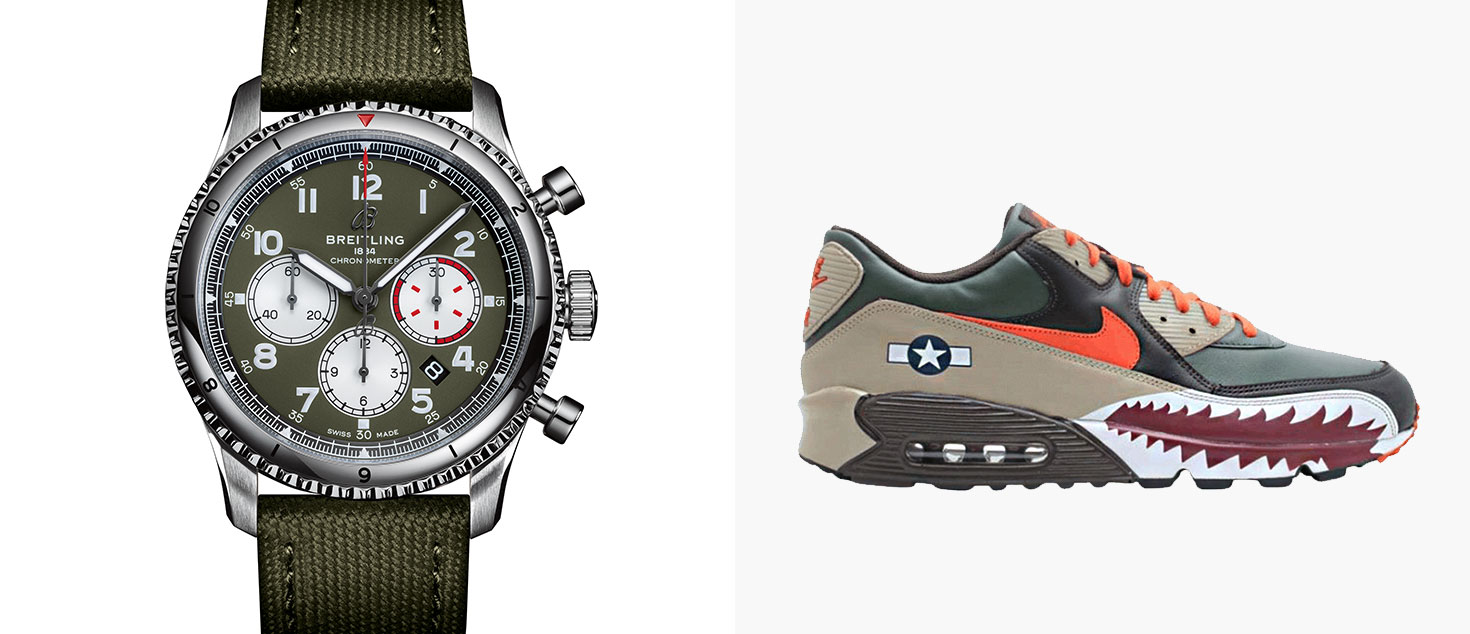 The Breitling Aviator 8 B01 Chronograph 43 Curtiss Warhawk paired with Nike Air Max "Warhawk" 90
The famed Curtiss P-40 Warhawk, a World War II Pursuit plane, was painted to look like a tiger shark, representing the Flying Tigers, a group of volunteer American pilots who defended China from Japan prior to the USA's entry into the war. The plane serves as the design inspiration for the 2007 Air Max 90, which takes on a literal interpretation of the Warhawk, replicating the plane's design. The Breitling Aviator 8 B01 Chronograph 43 Curtiss Warhawk commemorates a partnership with the maker of the iconic plane through the color, style and functionality of its chronograph, solidifying the watchmaker's longstanding link to the aviation community.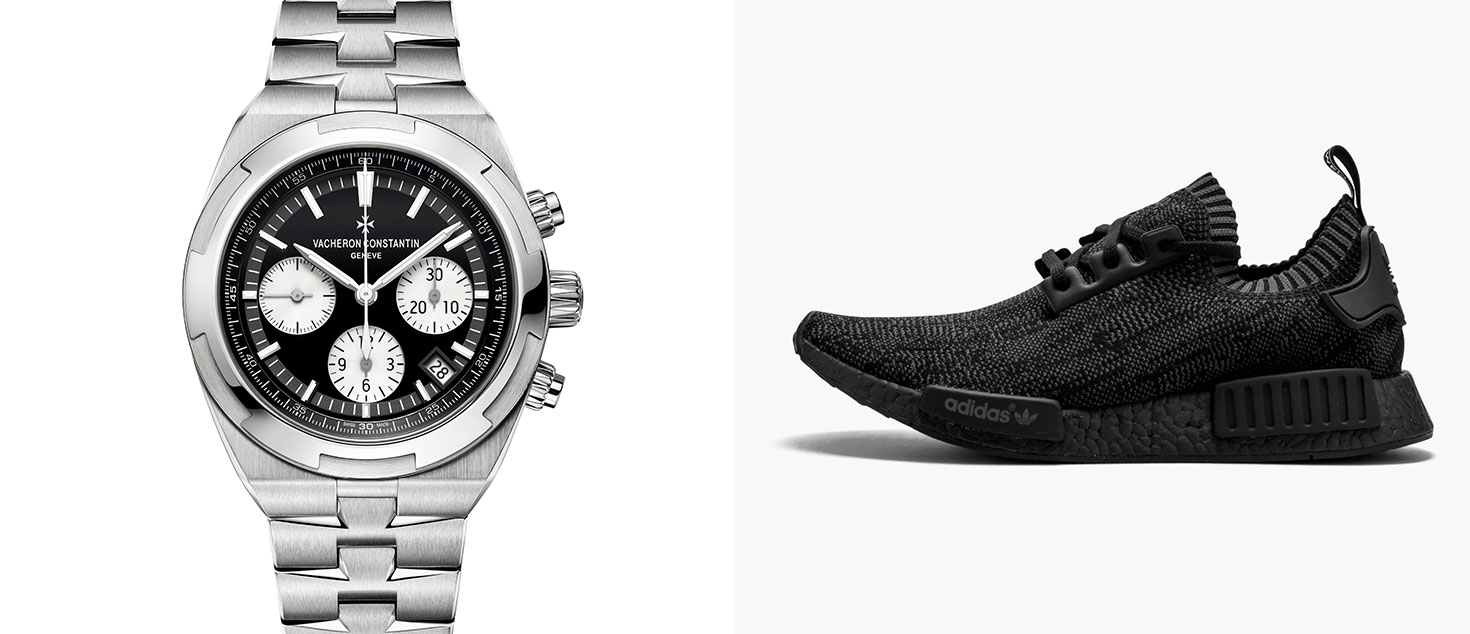 Vacheron Constantin Overseas Chronograph, Black Dial paired with adidas NMD "Pitch Black"
The adidas NMD "Pitch Black" is an unreleased friends and family design that was seeded to special partners and influencers in 2016. Limited to only 500 pairs, the monochromatic knit-based sneaker is one of the rarest NMD models in existence. The sleek all-black-everything Primeknit shoe has been seen on the feet of the most notable partners of adidas across the world, just as the Vacheron Constantin Overseas Chronograph is seen on the wrists of its global clientele. Vacheron Constantin, which in a similar fashion to the rare sneaker, presents a black take on its signature sports watch with an elegant monotone dial.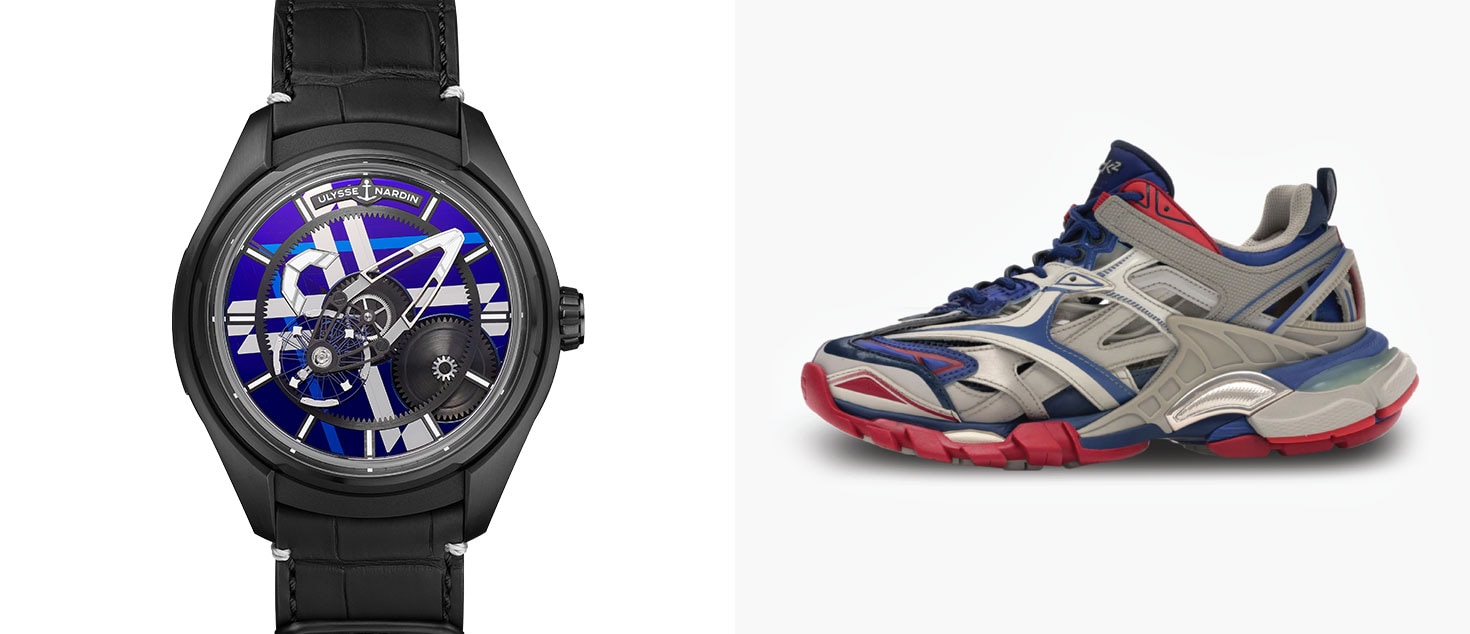 Ulysse Nardin Freak X Black Marquetry paired with Balenciaga Track.2
Fashion house Balenciaga reimagined its signature trail-inspired sneaker in the Track.2 model, which features a mixed-media 176-part upper. The rework of the popular style made for a more complex composition as its predecessor. In the same vein, Ulysse Nardin added the Freak X to its Freak Collection, a series of timepieces that shows off the watchmaker's skill in using silicium. The Freak X employs a proprietary decorative technique using the material, resulting in a mosaic-like motif on the watch's face. Shown together, the result is a dual offering of unexpected, multifaceted designs that signal impressive forward motion and craftsmanship for both brands.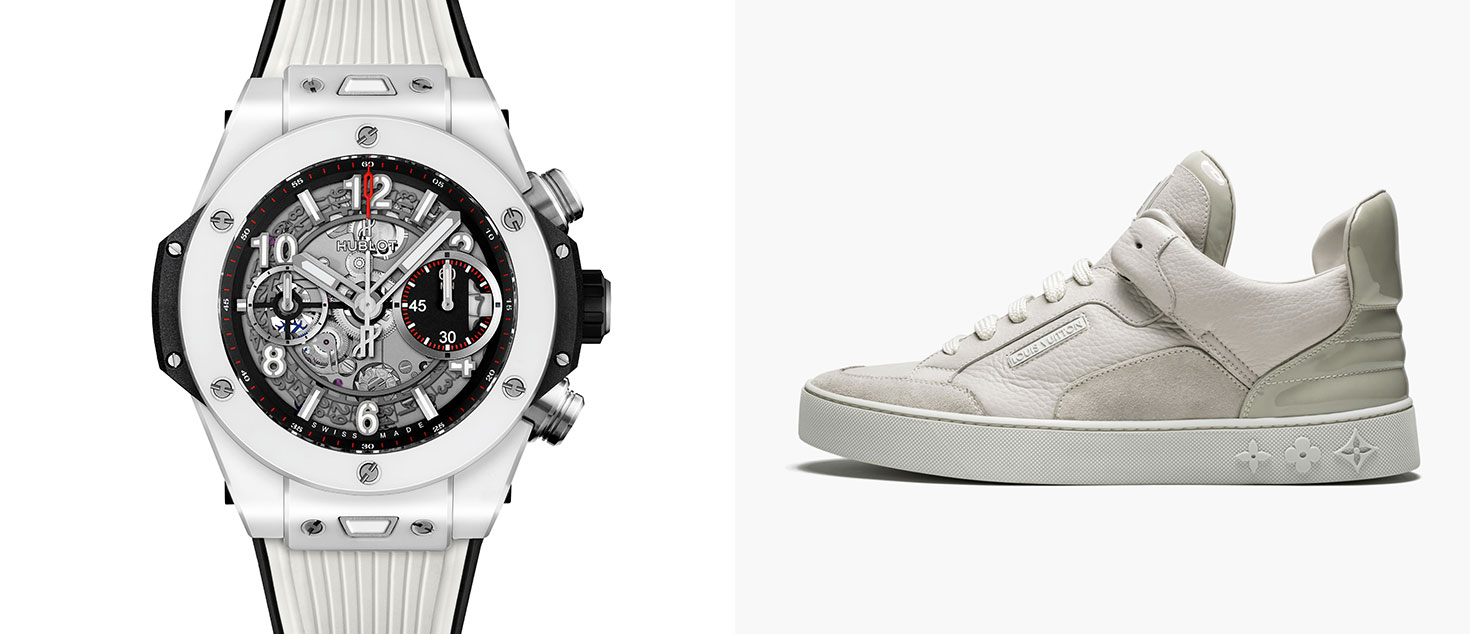 Hublot Big Bang Unico King White Ceramic paired with Kanye West x Louis Vuitton Jas "Patchwork"
Rapper Kanye West has deep ties to Louis Vuitton and Hublot, two brands within the LVMH portfolio. The Kanye West x Louis Vuitton Jas "Patchwork," a 2009 collaboration with the French fashion house, is one of West's first sneaker designs and now one of his rarest. West and Jay-Z's 2010 hit "Otis," from their collaborative album Watch the Throne, calls out the watchmaker, signaling the rappers' affinity for the brand. Beyond sharing ties to West, the Hublot Big Bang Unico King draws design parallels to the footwear with its polished white ceramic case, making for a duo of highly collectible pieces.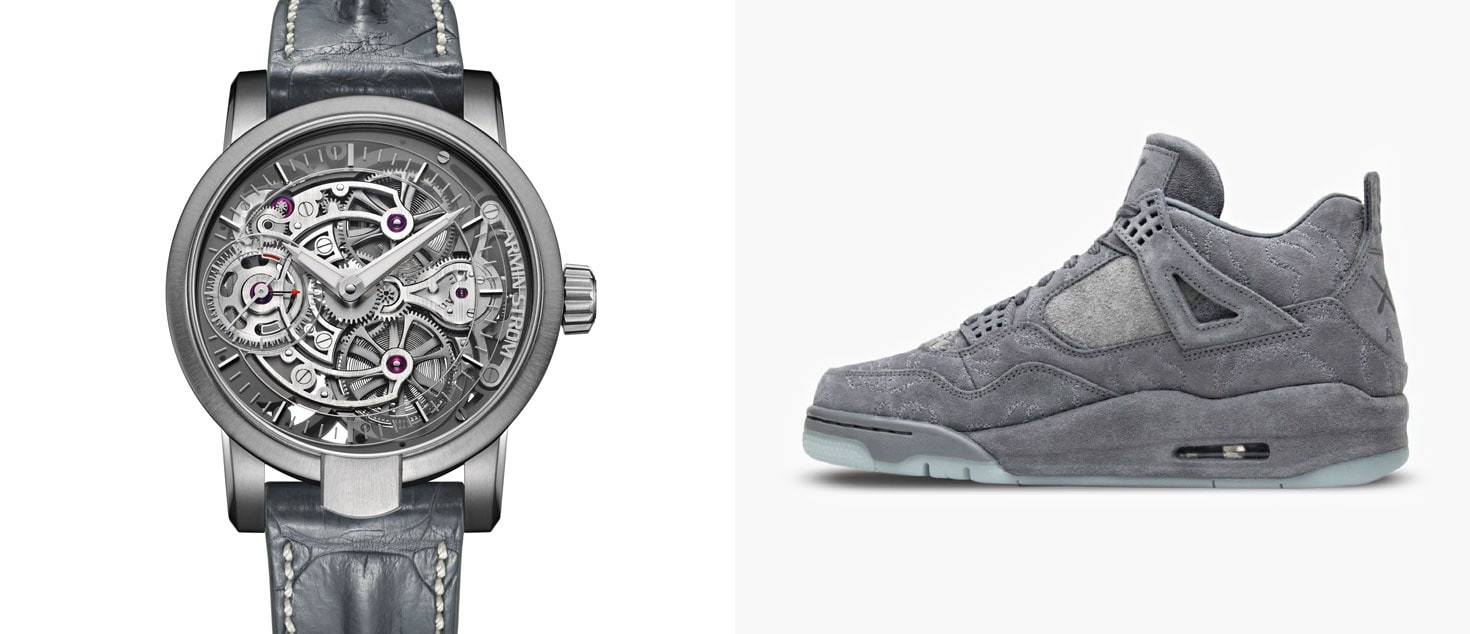 Armin Strom Skeleton Pure "Sneaker Time" Edition paired with KAWS x Air Jordan 4
American artist and designer KAWS offered his take on the Nike Air Jordan 4 in 2017, outfitting the sneaker with grey suede material, his signature "X" logo and a glow-in-the-dark sole. Well known for his signature characters and motifs, including a skeleton and crossbones, the collaboration presents a thematic match to this one-of-one Armin Strom Skeleton Pure. The timepiece pays homage to the watch brand's founder, master skeletonizer Mr. Armin Strom, and was customized to offer a similar aesthetic appeal as the KAWS x Air Jordan 4 with a titanium and ruthenium finished bridge and light blue stitching and lining on the strap.
OMEGA Seamaster Planet Ocean "Big Blue" paired with Doernbecher x Nike Air Jordan 8 Retro
Part of the always-celebrated Nike x Doernbecher Freestyle Collection, the Air Jordan 8 from the 2014 set features one of the most memorable looks for the shoe ever. The bold colorway, designed by Caden Lampert who battles a life-threatening autoimmune disease, features a speckled "Hyper Blue" upper with iridescent graphic mudguards and a flaming basketball graphic under the clear outsole. Just as the Air Jordan 8 underscores a valiant attitude, OMEGA pushes the wearer of the Seamaster Planet Ocean "Big Blue" — a GMT and divers' watch fashioned from a single block of blue ceramic — to brave the elements, dive into deep water and go beyond their limits.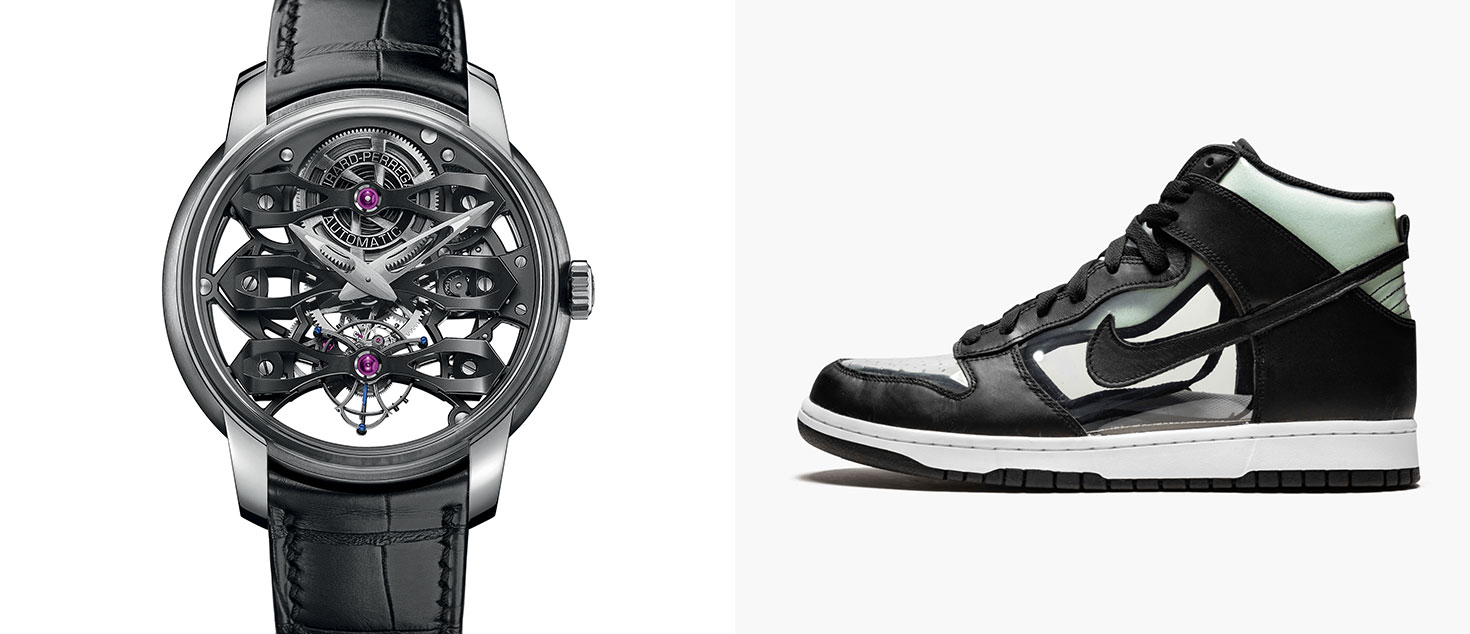 Girard-Perregaux Neo-Tourbillon with Three Bridges Skeleton paired with COMME des GARÇONS x Nike Dunk High "Clear"
Designed by the iconic avant garde fashion house COMME de GARÇONS led by Rei Kawakubo, this Nike Dunk High made waves when it was released during Paris Fashion Week in 2017 for its distinctive design and transparent upper. Girard-Perregaux has become known for applying a similar architectural approach to its timepieces, most notably in the Neo-Tourbillon with Three Bridges Skeleton. More than just a feat of impressive craftsmanship, the skeletonized version of the watchmaker's signature 150-year-old Three Bridges builds on the brand's history in a modern way and, like the Nike Dunk High, makes what's typically invisible visible.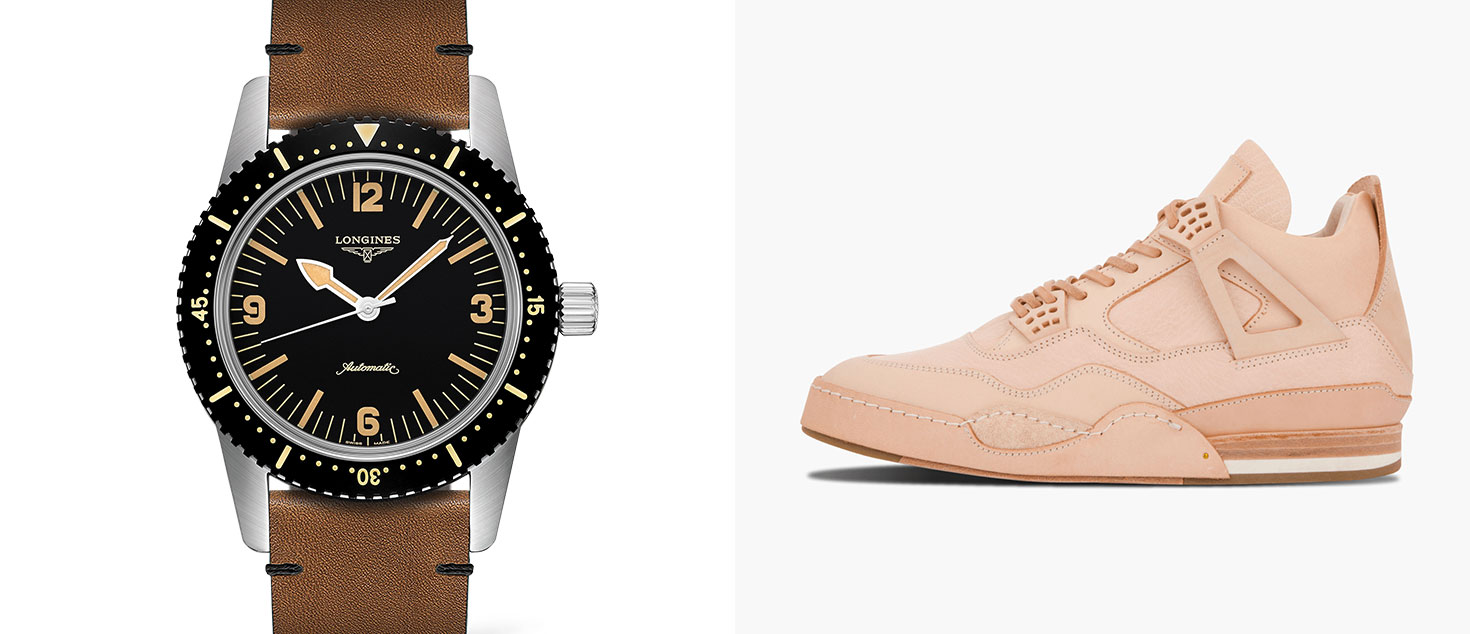 Longines Skin Diver Watch paired with Hender Scheme MIP-10
Hender Scheme is a Japanese footwear company that reimagines iconic sneaker silhouettes in luxurious materials. In this case, the Nike Air Jordan 4 was reborn in 2018 as "Manual Industrial Projects 10," crafted with super premium, tanned leather and leather shoe laces. In the same way that Hender Scheme reimagines classics, Longines gives new life to its first diver watch from 1959 with high-performing technical features. The Longines Skin Diver, a highly anticipated release in 2018, is ushered into a modern era with many of the sleek design elements as the original and a leather strap that complements the Hender Scheme.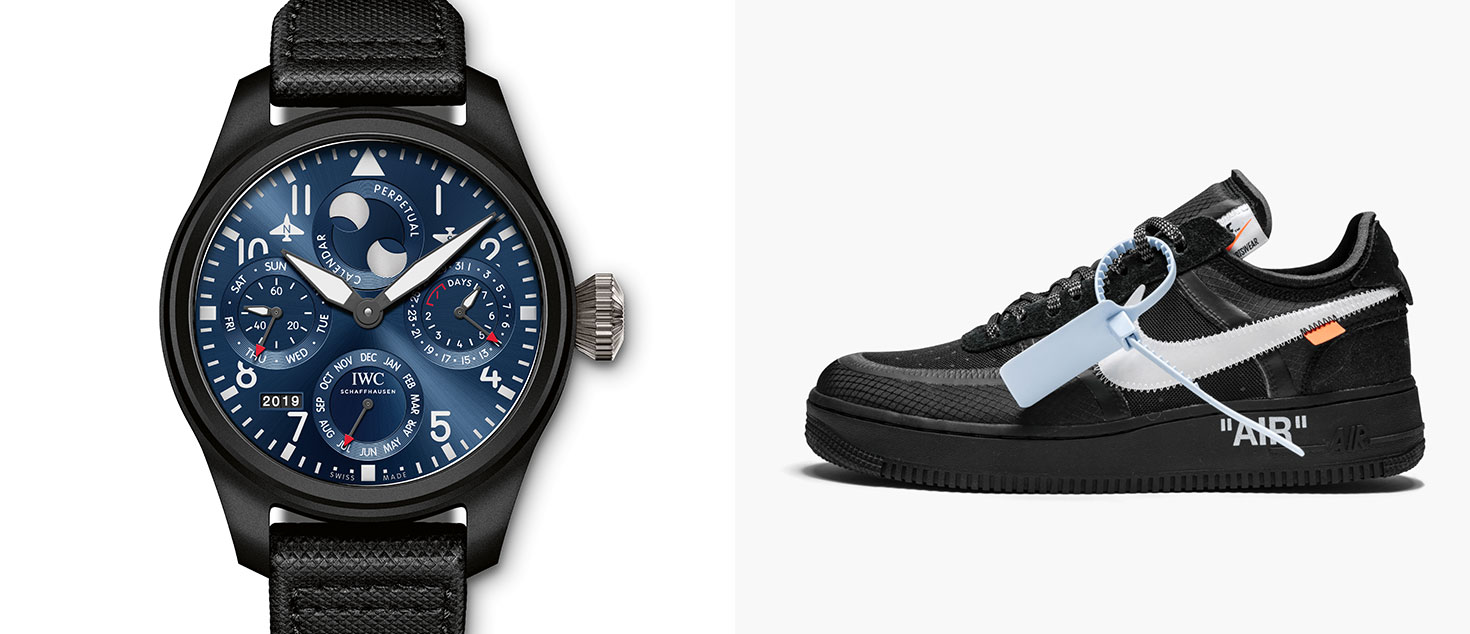 IWC Big Pilot's Watch Perpetual Calendar Edition "Rodeo Drive" Timepiece paired with Off-White™ x Nike Air Force 1 Low "Black"
The initial focus of Nike's Air Force collection was to design a sneaker for the consumer who would figuratively take flight in their life. Originally introduced as a basketball shoe in 1982, the Air Force 1 was reimagined by Off-White™designer Virgil Abloh in 2018, closing out his sought-after series of Nike collaborations. As a product line for people who are piloting and engineering their destinies, IWC's Pilot collection and the limited-edition "Rodeo Drive" share a similar ethos to the sneaker. Both embody the "Engineered for New Horizons" motto of the IWC Pilot collection, simultaneously encouraging watch and sneaker enthusiasts to reach new heights.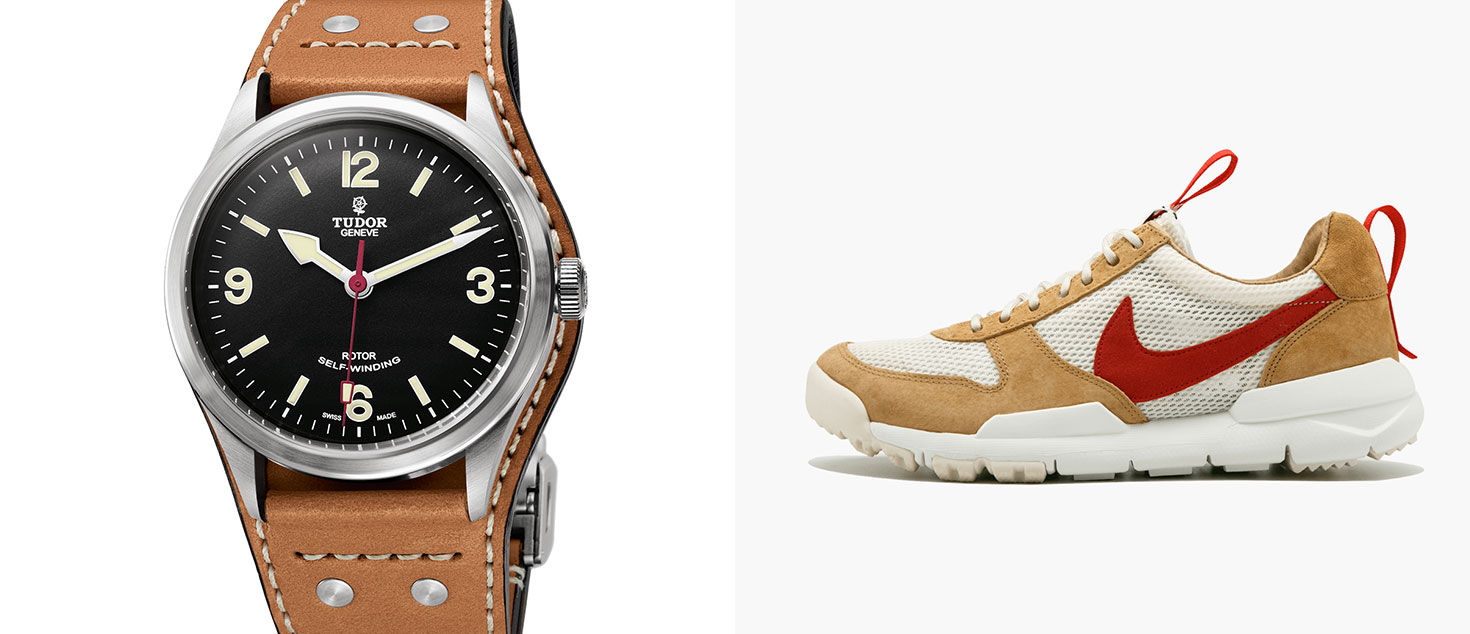 TUDOR Heritage Ranger paired with Tom Sachs x Nike Mars Yard 2.0
Famed artist Tom Sachs collaborated with Nike on the Mars Yard sneaker in 2012, an extremely limited design based off the concept of an athletic sneaker for rocket scientists. Updated in 2017, the Tom Sachs x Nike Mars Yard 2.0 features a very similar design to the original release, with a few tweaks. In a similar vein, Tudor has historically produced technical tool watches devoted to divers, field scientists and military professionals. In 2014, the watchmaker debuted the Heritage Ranger, a field watch designed to serve both scientists and the style set. The pairing presents a rare case of two brands designing products in the spirit of science and exploratory scholarship.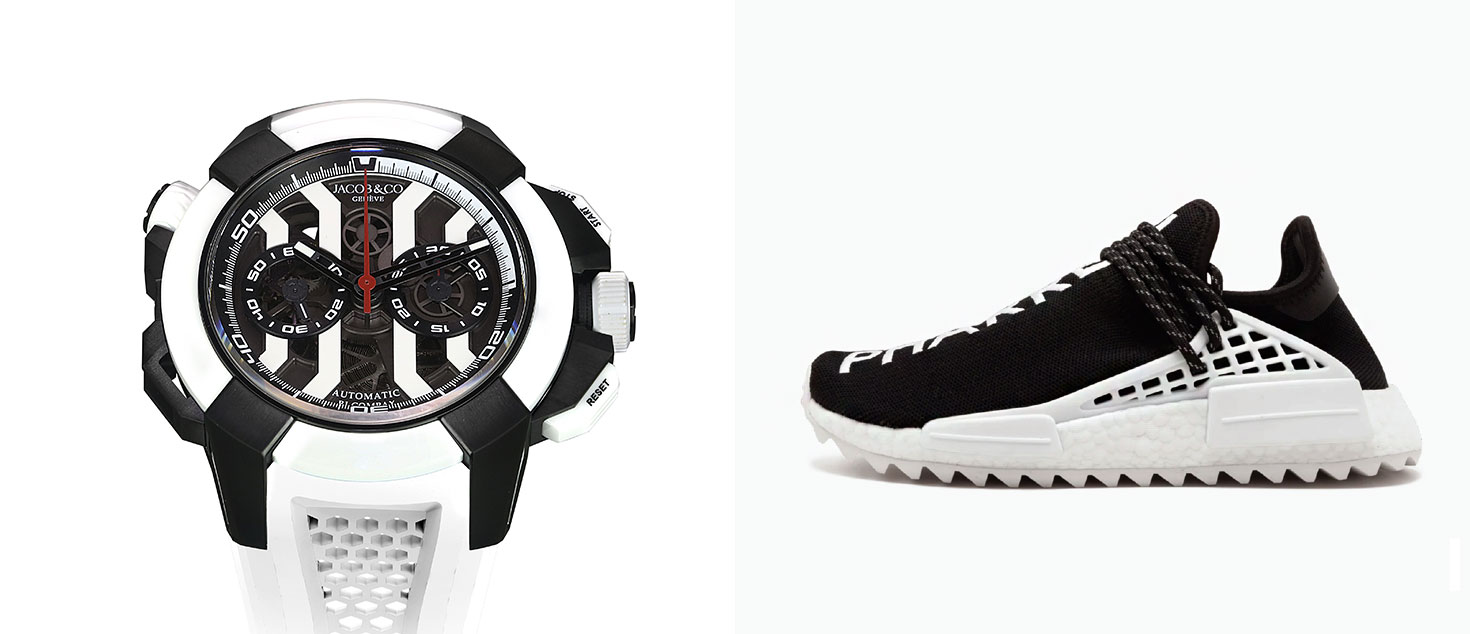 Jacob & Co. Epic x Chrono HYPEBEAST Edition paired with Chanel x adidas Originals Pharrell Williams Hu NMD
Pharrell's partnership with adidas has produced a series of epic sneakers, but none have been more legendary than the ultra-rare 2017 adidas Originals Hu NMD in collaboration with fashion house Chanel. Released in extremely limited quantities only at a special Chanel pop-up shop at Colette in Paris, the sneaker features a black Primeknit upper with white accents and "Chanel" down one foot and "Pharrell" down the other. Jacob & Co. similarly marries sport and luxury with the Epic X Chrono HYPEBEAST edition, a high-end chronograph in a striking black-and-white theme, designed for customers with an active lifestyle. The watch and sneaker meet harmoniously at the intersection of fashion and sport.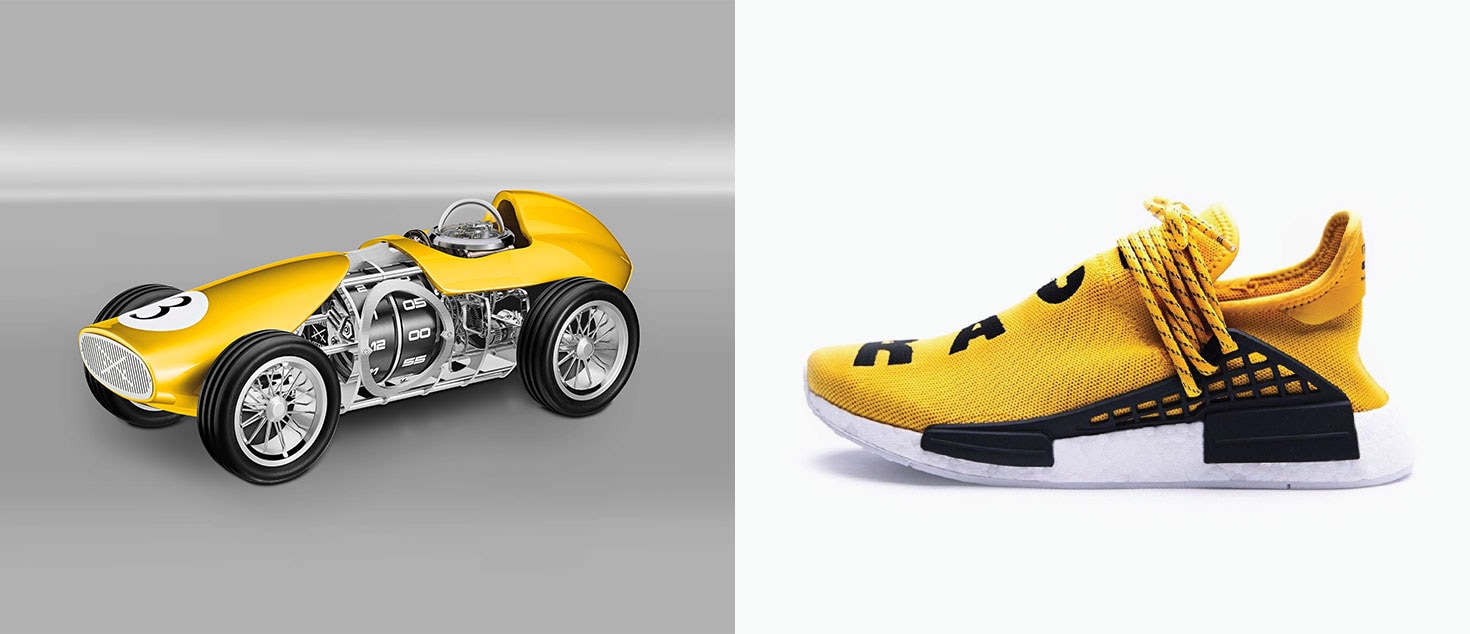 L'Epee Time Fast D8 paired with Pharrell Williams x adidas Originals Hu NMD "Human Race"
This 2016 yellow colorway marks the first of the incredibly popular series of adidas NMDs by Pharrell Williams and features a modified construction of the silhouette. Through their collaboration, Williams and adidas honor the differences in the world around us with the "HUMAN RACE" text embroidery on the NMD. The L'Epee Time Fast D8 sculpture taps into the spirit of racing by combining watchmaking with vintage race cars, touting a display of hours and minutes the mimic a race car number. Its link to the NMD goes far beyond the visual connection of their vibrant colorway; both offer a nod to elements that are close to them in distinct ways.
All watches featured in Sneaker Time are available for purchase through Watches of Switzerland located at 60 Greene Street, NYC. Click here for store details. A selection of the featured footwear is also available through Stadium Goods at 47 Howard Street in Soho and at stadiumgoods.com.
#SNEAKERTIME
Back To Top